Posted
1 Dec 2015
The Managing Director, Michael Howard, is a keen cycling enthusiast and in December 2015 he took this interest to a whole new level by taking on The Ruta Maya bicycle ride across Central America.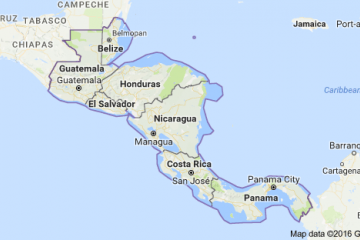 The route started in Costa Rica and passed through Nicaragua, Honduras, and Guatemala before finishing in Belize - 2,700 kilometres spread across 25 riding days with just 5 rest days.
The roads traveled upon were mostly unmade and wound their way through mountains and volcanoes, racking up an impressive 43,000 metres climbed (equivalent to climbing Mount Everest 4 times) in just 25 days!
The challenging route also encountered rainforests, waterfalls, crater lakes, hot springs and deserted beaches and a hot and humid environment to boot providing tropical downpours turning little used back roads into streams and rivers.
See how Michael got on by following this series of blogs. From getting lost in Nicaragua, and managing to cycle an extra 25 kms that day alone, to wading through streams that were actually roads. Facing the tough, changeable climate and adverse weather conditions, and concluding in losing 6 kgs in weight and giving away his bike to a local truck driver!
Day one… Costa Rica…
After arriving in San Juan, Michael was unsure of what lay ahead but was up for the challenge. He took time out to visit a local orphanage and made a much needed donation to them on behalf of Frontier Software.
Once the ride had commenced he realised that nothing could have prepared him for this journey. The true natural beauty of the scenery took his breath away. Costa Rica translates literally to 'Rich Coast' and that's exactly what he got!
This leg of the trip took him past volcanoes, had him wading through knee high sections of rivers whilst carrying his bike and every day in this section of the trip involved climbing hard mountains on unmade roads and bumpy surfaces.
The weather was unpredictable; hot and humid, which made the going even tougher. And when it rained, it rained like you'd never seen before! The rain caused the brakes on the bikes not to work which provided some scary moments going down mountains!
Michael somehow managed to get separated from the group on the very first day, which resulted in extra distance traveled at such an early stage. Luckily the group found him and he joined a cycling 'buddy', Anmei Goldsmith, who soon became Michael's partner every day. She was a good rider and Michael felt comfortable following her.
It was on this leg of the journey that Anmei became sick and missed five days of the trip. But Michael carried on without her. Anmei was still travelling with the group but in the convoy truck and planned to rejoin as soon as health would allow.
On day two, three spokes in his bike's front wheel broke and he had to borrow a wheel for the rest of the trip.
It was tough going. Lunch was had on the side of the road every day and every night was shared accommodation with different people.
A good solid start to the trip as Michael had managed to cover every inch of the whole first section (and a little more because of getting lost on the first day!).
The second leg of Michael's tour was Nicaragua
The scenery was very green and varied with many mountains. This leg provided a welcome break from the rain experienced on the first leg, but there was more energy zapping off road riding.
The mountains along the way were littered with small wooden houses and provided a lovely scenic backdrop to the arduous route. Again, Michael managed to get lost in this section! One minute he was following his partner and the next they lost sight of each other and Michael began cycling a completely different route. The team car was sent out to search for him, but by the time they had found him, Michael had already covered an extra 25kms on what was already a 125km day!
This made Michael less enthusiastic to complete the 18km climb remaining of the route, but he pushed through the barrier that was telling him to stop.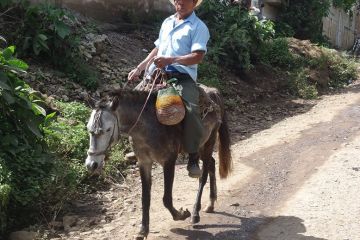 It was in Nicaragua that Michael realised the global reach of the Chris products when he was sat in a coffee shop in a small village. He had got talking to a lady and had bought her coffee and cake, only to realise when they got talking that this lady uses the HR21 Self Service product in the hospital she works in back in Melbourne. What a small world!
Next up on the Ruta Maya bicycle ride was Honduras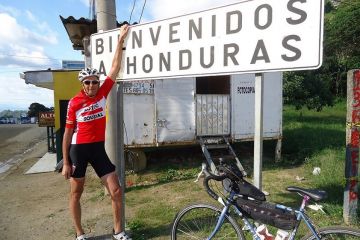 Honduras presented the group with very hot and humid weather which made cycling conditions tough going. But by this point in the ride everyone is feeling fitter and their bodies have become more used to the arduous cycling every day.
They were all tested when one of the days started off with a 20km climb which was a shock to the system. This climb seemed to go up and up and up forcing the cyclists to dismount and walk their bikes up.
Forming a pattern, Michael managed to get lost again in this section as his riding partner was sick and he didn't have GPS or a count down milometer, just a map. Surely if there was a prize for the most distance covered on the tour Michael already has it in the bag?!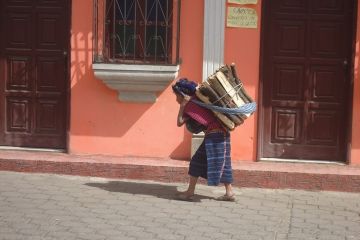 On a break day some of the group decided to take in the historic sights and monuments of Honduras and visited the Mayan and Copan ruins while consuming the fabulous local ice cream and stocking up on some vital calories.
Guatemala is a land rich in volcanoes, vast rainforests and of course more mountains!
The mountains provided the backdrop for a serious accident involving two of the group, Sarah and Geraldine, who took the downhill of a mountain too fast. The road conditions changed resulting in them losing control. Geraldine was hospitalised and airlifted to British Columbia, Canada.
A rest day on this section of the trip allowed the group to soak up the historic sights of Guatemala which included and ancient Mayan city. Unfortunately, Michael was sick so missed out on the sightseeing while remaining in the hotel, not managing to eat or even move.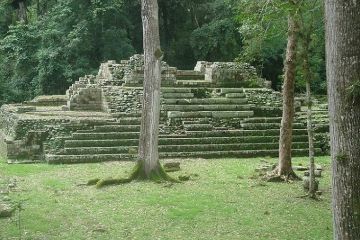 Having not eaten at all the previous day, Michael was unable to join the ride so next day he rode in the convoy truck.
After many days of cycling in the intense sun and heat the group really were slimming down. Michael in particular noticed that he was now sporting a glorious tan! Well, racing arms and legs!
The last leg of the ride was Belize
Formerly British Honduras, which is on the eastern coast of Central America and famed for its beaches and scuba diving. Its Caribbean shoreline provides a home to the Belize Barrier Reef and to the west is dense jungle where you can find further Mayan ruins.
Michael was again sick today and unable to ride well. Feeling terrible, he sat behind the wheel of another rider but had to stop and rest 4 times in 25 miles (40kms).
Finally arriving at the finish line, Michael had just about enough energy to wash and join the group in the end of ride awards ceremony. Just as well he did because he won an award! Yep, you guessed it! The rider that got lost the most!
Still feeling ill, Michael managed to see through the awards and then drag himself to bed at 10pm, missing out on the disco that started at 10.30 and the chance to celebrate with his riding buddies. We all know how much Michael likes a party so that signifies just how ill he was!
Before leaving for his 37 hour journey back, Michael stopped to give his bike and riding jerseys to a Costa Rican van driver in a hope to pass on his enthusiasm for cycling to someone new.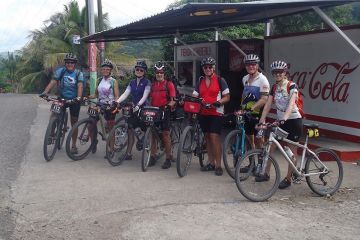 In summary:
2,600 kilometres

climbed 4 times the height of Mount Everest

500 kilometres of this was off road

minimum 4 litres of water consumed every day, plus beer every night!
Michael didn't manage to complete all sections but only missed one morning and one afternoon ride. And one day he was last in because he was having a lazy day! But the achievement was having completed the whole ride. Some riders (many much older) would come to ride for two weeks and then return home early. Others only did the morning or afternoon sections.
Michael has some fantastic memories to cherish from the ride and some great bonds and friendships were made along the way - not to mention all the photographs and his collection of postage stamps from each country. He experienced basic one or two star accommodation which he shared with others. He lost 6kgs in weight over the whole ride.
Do something that pushes you, something that is 'outside your box'. Challenge yourself in life. You won't regret it!
Michael plans to take part in another ride soon – Mbeya in Tanzania to Windhoek in Namibia, so stay tuned for the next installment of Michael Cycles….