Posted
30 Apr 2017
Tanzania to Namibia cycle ride 2017
I must be mad
TDA Global Cycling: Bike Tours and Long Distance Cycle Expeditions
It was this organisation that is providing the opportunity of myself joining the 2017  Tour d'Afrique ride (race) from Cairo (Egypt) to Cape Town (South Africa) a mere 12,000 kms. A bunch of like minded 'lunatics' who enjoy the African fresh air and campsites along the way. Yes, most nights will be spent under the stars whereby after a long day in the saddle, you erect your tent. Food is prepared and freshly cooked and every day apart form the rest days. Water is sparse and you learn to shower in a bottle of cold water. So if you are looking for an adventure go no further than embark upon one of the many cycle tours that this Canadian company organises.
http://www.tdaglobalcycling.com
Departure and arrival Monday 22nd March
At check in Heathrow airport 5.30am bound for Amsterdam and then Dar Es Salam. Arrived 23.30 in a dump of a hotel… What do you expect for USD 20.
March 23rd
Ready or not here I come
The day before a small ride 160kms part of which will be Tanzania and Malawi.  Crossing the border on a bicycle always confuses customs. 
March 25th
No need for a GPS
Yesterday was my 1st ride, 162kms. Clearly you need a GPS, but I did not unpack it so I resorted to the traditional method.
April 1st
Continuing the journey
A typical instruction board
The worst cycle ride day ever
120km day as usual lunch at 74kms. We started and the rains came. For the next 46kms battling rain and wind. The cold was setting into my hands, I stopped for a break and the truck came along. I abandoned that ride along with 70 percent of the riders. This image says it all.
Fortunately, the ride days have not been mountainous more rolling steep gradients. They are exhausting and when a head wind occurs, you need a break. Soft drink no beer. I bought a small bottle of Coke a Cola from this man.
April 7th
A long week in Zambia
Thank goodness a rest day!  5 consecutive riding days over 750kms.  3 good days with 2 mediocre days.  I am now resting in Lusaka, Zambia before heading to Victoria Falls.  Along the way women working, rendering Kingdom Hall for Jehovah Witness.  
The workers at Kingdom Hall. They were so excited when I gave them a donation for Jehovah Witness.
April12th
Victoria Falls on Zambia side
April 18th
Look for the elephant
One has to be so careful of these amazing animals as they roam across their lands.  He was not happy when he saw us.  We waited for him to move before we moved. 
April 19th
Crossing the border Zambia to Botswana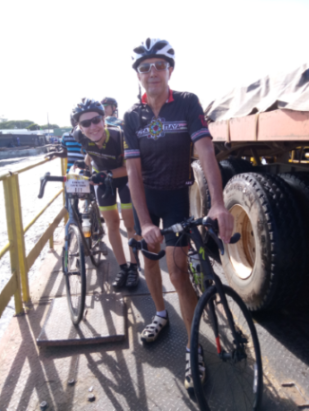 April 23rd
Better late than never. Bridge between Zimbabwe and Zambia
Zambia holding the train. It is a rest day
April 25th
Lady in Red…. I gave her my apple and energy bars for her 2 children. Botswana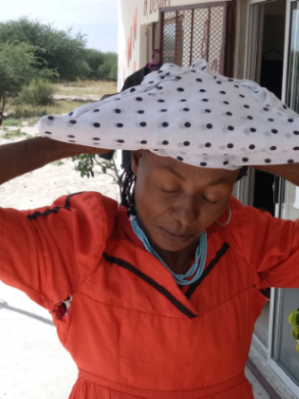 African art in Maun Botswana
Artists create various pieces of art and sell them by the roadside.  This one was hanging in a restaurant. 
Always something there to remind me…
My last weeks cycling itinerary
I love this picture
I am now going to design a new chair plus book to rest your head on.  I fell asleep after a pathetic 80km ride and then decided to take the truck on this penultimate day.
Some random images before crossing the border into Namibia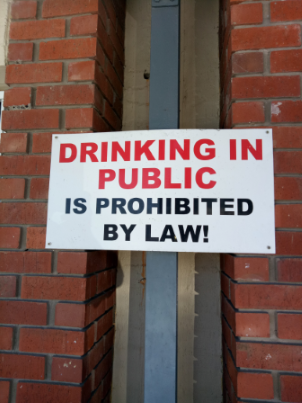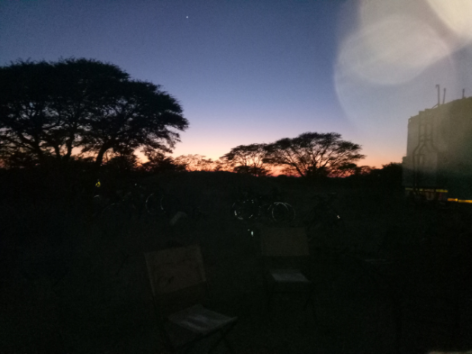 Impossible to ride hence all bicycles loaded on a recovery tray truck until we could cycle.  Two kilometers before this picture I was riding too fast, hit the gravel and suffered a puncture. The 5th puncture of journey so far.
Along the way in Zambia
Final ride yesterday April 24th 152kms. Windhoek, Namibia
I was riding well.  152kms in 6hrs 20minutes of riding about the same time when I rode 160km at age 16 in UK called a reliability trial.  I still have this certificate.  The manager Thalis is on the right and Mark sub manager on the left.  Tour De Antique thank you for increasing my fitness level.  At my age I now want to RACE again!!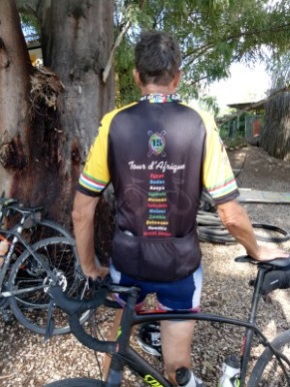 Next up, Mauritania, Oct to Dec 2018